Dragon Ball fans have a great event to mark on their calendars! After the DC Fandome for DC Comics fans, it's the turn of fans of Japanese comics and especially the excellent manga and anime series, The Dragon Balls by Akira Toriyama.
This is Dragon Ball Battle Hour 2022, a real virtual interactive competition to watch – a worldwide streaming event with huge proportions – for all Dragon Ball fans around the globe to immerse. sunk in two days. But let's take a detailed look at how to join and follow the not-to-be-missed event.
Dragon Ball Games 2022 battle hours: all the details
Dragon Ball Games 2022 Battle Hour will be held on Saturday, February 19 from 1 to 6 a.m. and from 6 p.m. to 2 p.m. Sunday, February 20 (CET). Here's a link to the official website, and here's an Online Arena instead, from where you can follow the event with the community, in 3D by selecting your Avatar.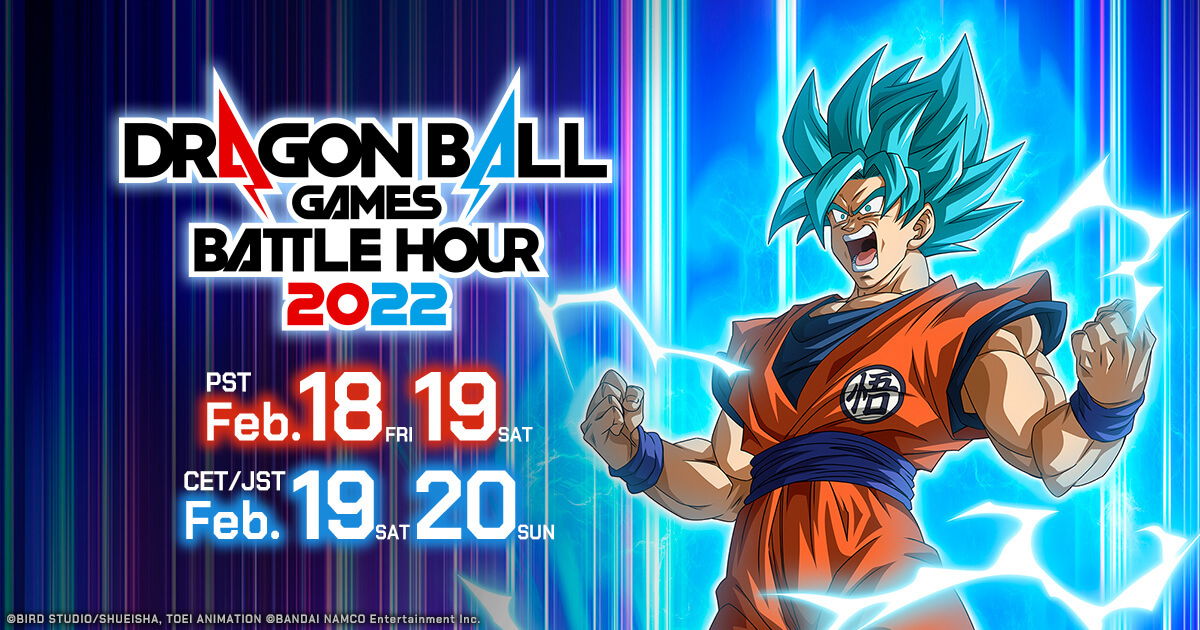 The live event will be broadcast live worldwide with the support of BANDAI NAMCO Europe S.A.S., SHUEISHA Inc. and TOEI ANIMATION Co., LTD. This is after the huge success of the first version in February 2021, and this second version aims to do even better and provide more entertainment and surprises for Dragon Ball fans!
In short, Battle Hour is back and two days of pure entertainment and fun await you. Fans who can't hold back the hype will be able to experience first-hand the thrills of the virtual broadcast live challenges. They will be able to join fans from all over the world and watch the amazing battles unfold in the Online Arena. Viewers will be able to enjoy the show as if they were directly there and reveal their background by checking their Avatar.
All fan-favorite titles will be available at the event:
Dragon Ball Fighterz
Dragon Ball Xenoverse 2
Dragon Ball Z Kakarot
Dragon Ball: The Breakers
Dragon Ball Z Dokkan Battle
Dragon Ball Legends
Dragon Ball Super card game
Super Dragon Ball Heroes
Specifically: the best gamers in the world of Dragon Ball are ready to compete. For Dragon Ball FighterZ, a World Tournament will be held that will decide the best player in the world out of all the winners of the regional finals: on the field will be the best ranked gamers. from Europe, Japan and North America.
For Dragon Ball Super Card Game, players will compete between the winners of the previous version of Battle Hour and the 2021 World Tournament. Directly from Japan, 6 players will compete – in two teams. 3 vs 3 – for Super Dragon Ball Heroes. With a global selection of its kind, matches look like the latest wave of energy.
In the Online Arena, a series of multiple choice quizzes will lead to another World Tournament. There will also be various initiatives in the event's online arena. A multiple choice tournament based on Dragon Ball Z Dokkan Battle and Dragon Ball Legends under the supervision of the development team. Space is also for fashion with the DBXV2 Super Fashion Show: 16 fashion leaders selected from the best will showcase their works for Dragon Ball Xenoverse 2.
Dragon Ball Games Battle Hour 2022: Upcoming projects and behind the scenes
It is clear that Dragon Ball Games Battle Hour 2022 will favor some exclusive announcements about further projects that will be related to the world of Dragon Ball: Dragon Ball Super: Super Hero, the next film directed by Akira Toriyama himself. Editor. The creators of Dragon Ball: The Breakers will provide a live gameplay session by presenting the game. There will also be a time to compile and examine what Dragon Ball Z Dokkan Battle has achieved in the seven years since its launch. Other announcements about other products, including surprises, were clearly expected.
Event viewers will also be delighted with a variety of behind-the-scenes content, including mini-movies, balloons, and Japanese lunchboxes featuring characters from the series. How to take the best photos of Dragon Stars Series and S.H. Figuarts?
There will also be space for the kitchen – the Kakarot Cooking segment – with a guest who is a Chinese food master who will create a number of dishes directly in Dragon Ball Z: Kakarot. Also live, the two sculptors will be creating statues of Goku and Vegeta for Dragon Ball Games Battle Hour Masterpiece Fusion. In this event creativity will know no bounds and therefore in Dragon Ball Art Challenge some characters of the highly successful series come to life through some gimmicks such as puppets of stop-motion animation techniques, balloons, Rubik's cube and bento boxes, classic Japanese lunch baskets.
See more Dragon Ball Rug
The Evolution Of Frieza Dragon Ball Z Rug For Bedroom Aesthetic
The Evolution Of Son Goku Rug For Living Room
The Evolution of Vegeta II Dragon Ball Z Rugs For Living Room
Character All Dragon Ball Z Rugs For Bedroom
>> Store: Reverlavie